Jetting off to foreign climes is one of the most enthralling experiences that life has to offer. New cultures, societies, sights, sounds and tastes await travellers, so much that the act of stepping through the aeroplane door is at the same time a wonderful exercise in self-improvement! There are negatives to travel however, the most pertinent of which being
boredom
.
Sat in those cramped seats, nothing to do but to watch that re-run of The Simpsons you've seen a million times before or thumb through the tarnished, month old in-flight magazine that populates the seat rest; it's a grim set of affairs for even the most occupied individuals in a flight. How, then, can we banish travel-based boredom?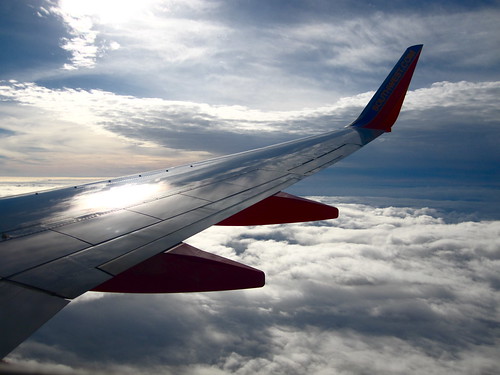 Beat Travel-Based Boredom
photo credits >>here
The two silver bullets one should load into your of in-flight tedium-banishing gun should be an mp3 player and an interesting magazine. Once, whilst sat in the midst of a 14 hour flight from Nairobi to London the only things I had to occupy myself with were 60 GB worth of tracks and two copies of National Geographic. Even with these minor objects I didn't have a dull moment, although I must admit this did involve factoring in a couple of hour long naps interspersed throughout the journey. Still, though, they were my saviours!
This was before the invention of smart phones, however. With these wondrous devices the number of boredom-beating possibilities multiplies tenfold.
Games obviously open up a world of possibilities; Plants vs Zombies is a personal pick, mainly due to its addictive, time consuming nature, but other games such as Spirits, a calm, challenging adventure game and World of Goo HD, a great game for when the lights have been dimmed. With the spread of Wi-Fi being offered on flights, online games are also a great way to waste time; sites like
Uptown Aces
have plenty of fun games on offer, and you might even win a little cash to spend when you touch down at your destination!
Films are an obvious choice of entertainment, also. Here you can use the oodles of extra time to finally watch all of those incredibly long, time consuming movies you've never usually got the time to watch. Think 2001: A Space Odyssey, the Lord of the Rings Trilogy, Lawrence of Arabia or Zulu; really long, usually-arduous films that only ever get aired on television during the holidays! Trust me; you'll be so engrossed in the movie that any hesitation you might have once felt will be straight out of the aeroplane window! Figuratively.
________________________